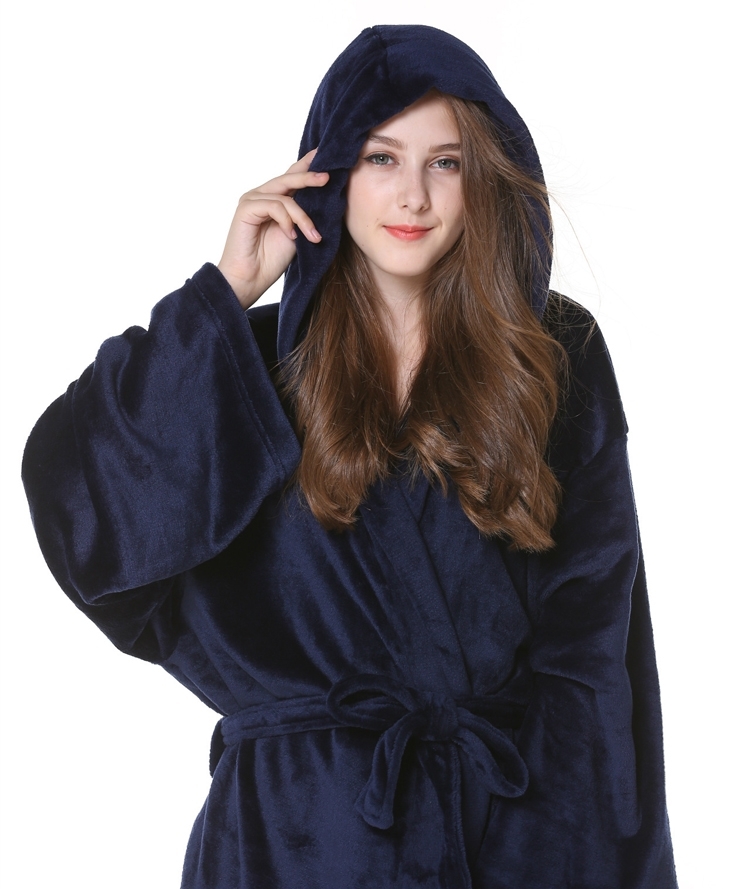 1. Flannel bathrobe
Flannel Bathrobe is made of soft flannel fabric, this kind of fabric keeps us warm for its warm fur, which is suitable for winter use.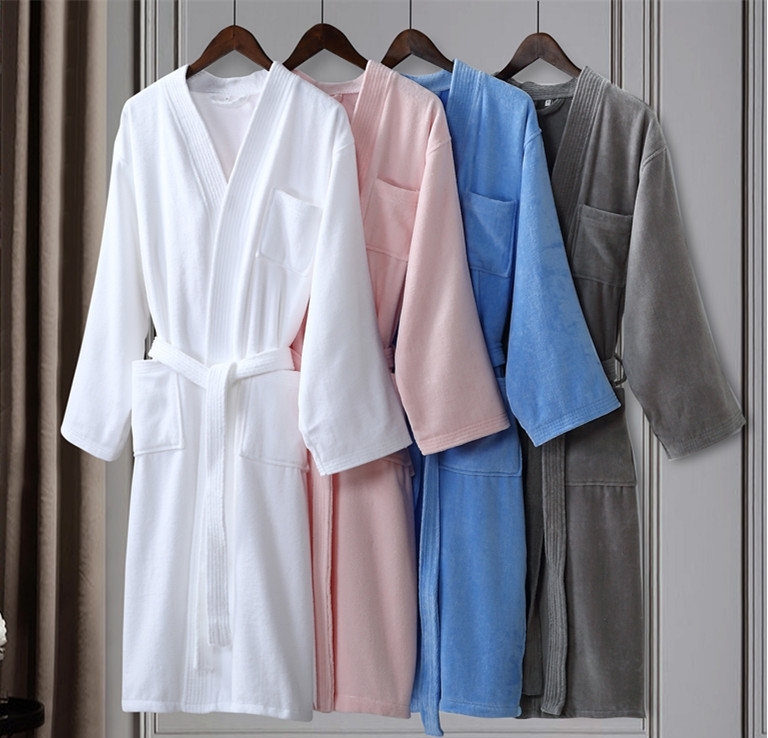 2. Plain weave cut velvet bathrobe
The chic and generous collar design of plain weave cut velvet adds to the fashionable charm of bathrobes, and is a customized product for high-star hotels.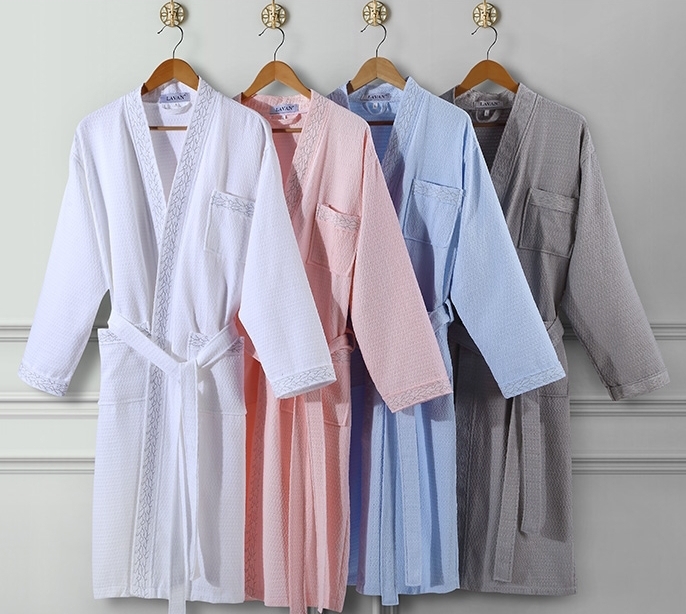 3. Waffle bathrobe
The waffle is soft and comfortable to the touch. Its simple and lively design and light and flexible touch make it the first choice for spring and autumn, and it is more suitable for leisure and resort hotels.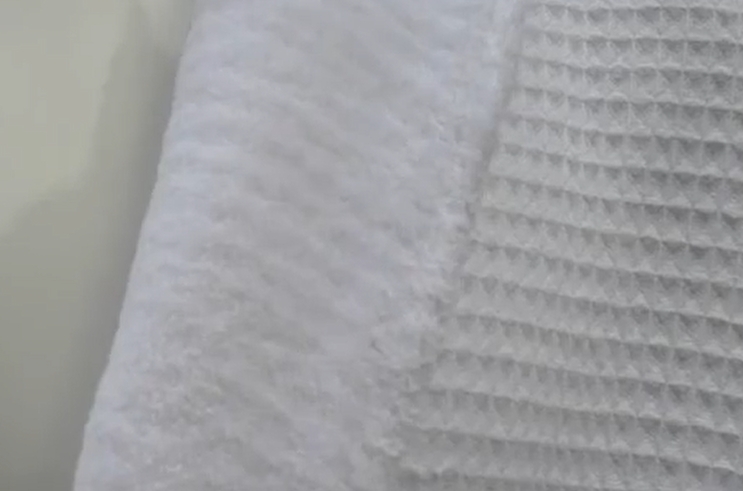 4. Double-sided terry waffle bathrobe
The double-sided terry waffle bathrobe fabric is delicate and soft, delicate and crisp, and the inner terry is soft and comfortable, and has good water absorption, making the skin feel comfortable and pleasant.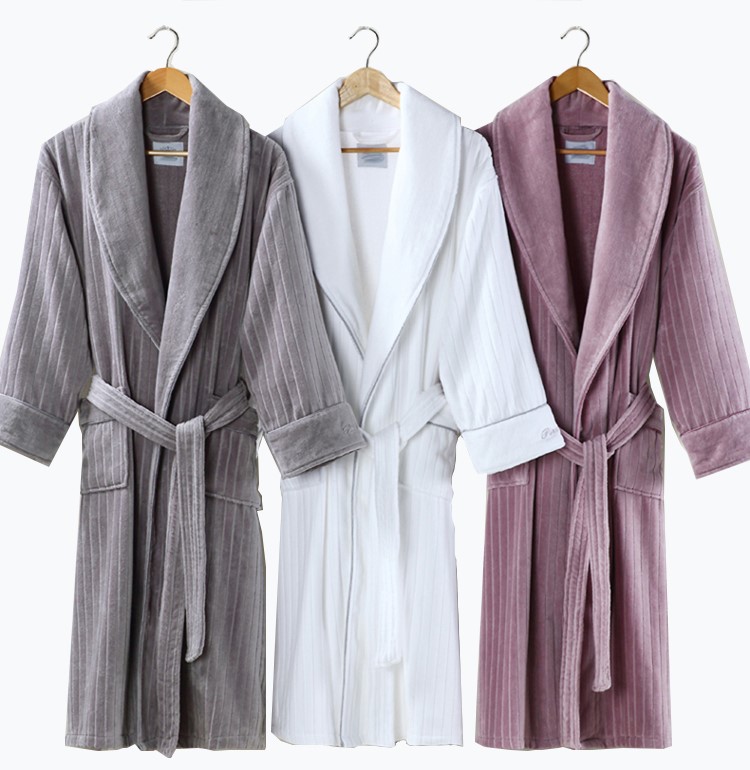 5. Jacquard cut velvet bathrobe
Jacquard cut velvet bathrobe is more classy than ordinary terry, 100% cotton cut velvet fabric, velvety touch, soft and comfortable.
6. Terry cloth double bathrobe
It adopts three-dimensional integrated tailoring and double-safety sewing ultra-wide seaming process specially used for hotel bathrobes, which is of high quality, beautiful appearance, and fashionable and generous.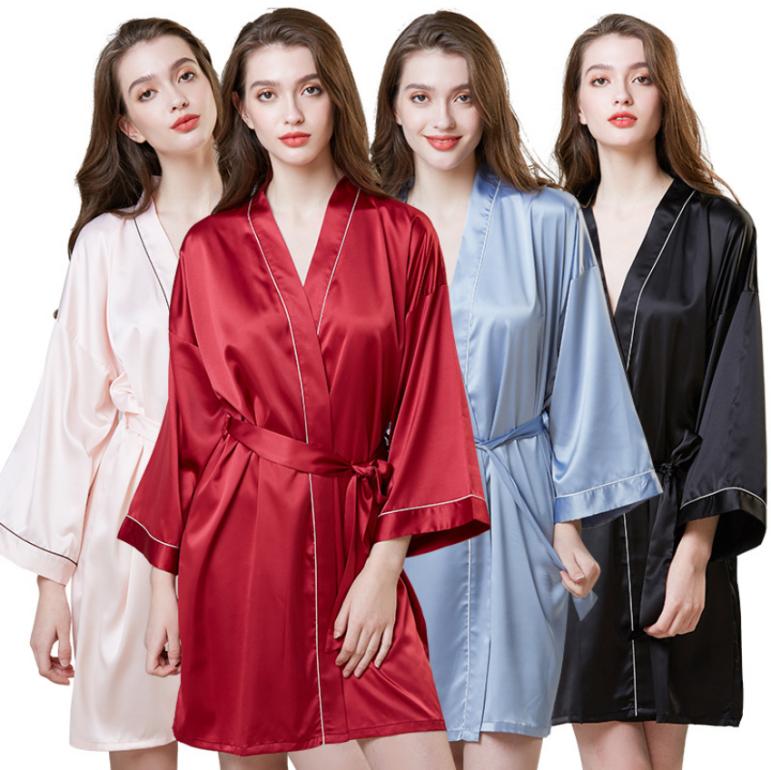 7. Silky bathrobe
Satin silky Robes made of Silky Lightweight stain Fabric.Smooth to the touch, pretty which is suitable for women night grown, and more welcomed for summer season 
Precautions
Bathrobes should be washed frequently to prevent the growth of bacteria and affect your health. In addition, use mild detergent or washing powder when cleaning, and wash at room temperature. Bathrobes should be placed flat after use and washing to prevent wrinkles. And keep the storage place dry and clean to avoid bacterial growth, and avoid high-temperature ironing. After washing, it is best to dry the bathrobe in a cool place to avoid direct sunlight. When cleaning plush bathrobes, it is best to use dry cleaning to prevent damage to the coils and destroy the softness of the surface.
---
Post time: Apr-06-2022